SERVICES
---
We provide the following services :
Forensic / Investigative Accounting
Employee Fraud / Theft Investigation
Computer Assisted Audit Tools (CAATs) to identify and detect duplicate / Bogus / Fictitious Invoices
Securities / Insurance Frauds
Tracing defaulters and Debt recovery.
Mediation & Arbitration
Tracing defaulters & Debt Recovery
Business & Economic losses
Revenue Assurance
System & Mechanism for Billing of all Chargeable Services and Collections thereof
Accuracy & Cost Effectiveness of Third party Settlements
Technology-driven System to overcome Revenue Leakage
HR Consulting
HR Policies, Systems & Manuals
HR Diagnostic Review & Tailor made Solution
Executive Search, Selection & Placement
Performance Management
Integrity Management
Provision of Temporary & Contractual Staff
Outsourcing of non Core Activities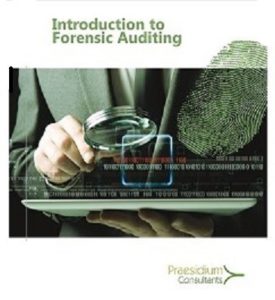 Training & Development of Staff
Carryout Training Need Analysis (TNA)
Designing tailor-made training programs based on TNA results
Imparting In-House staff training in Soft & Technical Skills
Financial Management
Budget Planning & Analysis
Treasury Management
Risk Management
Business Process Re-Engineering (BPR)
Inventory Management
Contract Evaluation & Vetting
Project Evaluation
Due Diligence for Mergers / Acquisitions
Setting up Business Ventures
Restructuring of Finances & Representations
Management of Business Buyouts
Consulting & Advise for IPO
Internal Audit
Computer Assisted Audit Tools (CAATs) & State-of-the-art ACL and i2 System for the establishment of Internal Audit function on modern lines
Full or Partial Outsourcing of Internal Audit services
Forensic/ Investigative Accounting
We have the critical ability to respond swiftly, clearly and concisely to our clients' requirements. We are trained to look beyond the numbers and to deal with the business reality of the situation. We analyze, interpret, summarize and present complex financial and business-related issues in a manner which is understandable and properly supported.
We use Computer Assisted Audit Tools (CAATS), like state-of-the-art ACL, and i2, to identify bogus invoices and to trace fictitious claims. Our services include investigations of criminal matters such as employee theft, securities and insurance fraud and kickbacks.
Furthermore, we analyze numerous years' accounting records to quantify disputed issues, including the compensation and benefits received by disputing shareholders or partners.
We can quantify economic losses resulting from securities trade manipulation or incorrect insurance claims.
We provide a detailed review of insurance policies to investigate coverage issues and also ensure the appropriate methods to calculate losses.
In today's fast-moving world, tracing defaulters and their hidden assets is a formidable task. We use CAATs for recovery of debts and asset's tracing which is the most effective way to achieve results. We also provide key contacts with our international associates who are forensic document examiners, consulting engineers and legal experts in this field.
Further examples of services provided include contract disputes, construction claims, expropriations, product liability claims, trademark and patent infringements and losses stemming from the breach of agreements.
We also specialize in Alternative Dispute Resolution (ADR), which include both mediation and arbitration and are designed to help companies to quickly resolve disputes with minimal disruption and cost.
Revenue Assurance
Our professional expertise in the telecommunications sector has wide-ranging international experience and association with international Experts. We aim to minimize leakages and thus increase revenues and profitability for our clients. We ensure collection of internet and M-Commerce billings.
Contract Vetting
Our overall expert review of draft contracts ensures maximum benefits and minimizes future conflicts and legal costs for our clients.
Human Resource Services
Our comprehensive database of pre-interviewed skilled personnel caters to the spectrum of requirements of our clients. All other HR services like training and document appraisal and feedback are also available.
We can also provide Temporary staff.
Financial Management
Our due diligence process ensures that our clients make sound business decisions for mergers and acquisitions. We also assist in setting up Business Ventures, restructuring of Finances representation.
Internal Audit Services
We are aware that clients often prefer to outsource the audit activity and our complete audit services are provided in response to this need."
IT Solutions, Consultancy and Professional Services
The IT wing of Praesidium Consultants, headed by a 40+ years' international experienced Mr. Mohammad Ashraf provides services in the domains of :
Enterprise Asset Management (EAM), Enterprise Resource Planning (ERP) and Customer Relationship Management (CRM)
System Development Life Cycle (SDLC)
Operating Systems Administration and Management (Unix, Linux, VME, zOS)
Database Designing, Administration and Management
Data Warehousing
Master Data Management (MDM)
Business Intelligence
Infrastructure
System Integration
System Customisation and Maintenance
Professional Services
Website Designing
Sub-Contracting
Training :

EAM/ERP/CRM (Functionality & Technical Implementation/Configuration)
Programming – COBOL (IBM, MicroFocus), Java, C++, Korn Shell Scripting, PHP, Python
Unix/Linux Administration
Structured Query Language (SQL)
Oracle PL/SQL
Database Administration – Oracle / PostgreSQL
Web Designing